What is Rewild Church?
Rewild Church is a christian felowship dedicated to reawakening man's connection to the God through the earth; we seek to go through the creation to the Creator.
We want to fully realize the communion of all creation and fulfill our God-given task of being the Nature's Priest. Human persons are a microcosm of creation – we contain all of the cosmos within. As God's divine image upon the earth, we are to compose and conduct a divine hymn of praise to God in concert with the creation. The earth and all its creatures find their voice and sing their praises to God through the children of God; this is a heavy and solemn responsibility which mankind has historically ignored. This is the spirit of worship, sacrifice, and servant-hood that we seek to reawaken in man at Rewild Church.
We must realize that we are a part of creation and that creation is a part of us. We must serve each other out of love and respect. But mankind is not only a part of creation, he is also a member of God's Divine family and thus is given the role of being nature's priest – of bringing the creation into fellowship and communion with God.
For all creation awaits in groaning for the revealing of the sons of God.

Romans 8.19
What does Rewild Church do?
At Rewild Church we pray together, and worship together in nature. We go for prayer walks, sit in silent contemplation of nature and of God, and we strive to teach each other various nature based, wilderness skills that will enhance our understanding of God, our place within the creation, and the communion of all things.
What is a wilderness church?
A wilderness church can mean many different things depending on who you are speaking with, but at its essence, it is a church that gathers to worship God in natural surroundings. Wilderness churches vary across denominations in their expression of worship, organization, doctrine, and theology. But where they agree is in their love for God's creation and in their desire to find greater communion with the natural world. Read more ..
Who is Vas Avramidis?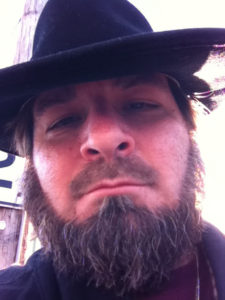 Vas is the founder and guide of Rewild Church. Vas is an ordained priest in the eastern orthodox church, and a graduate of St. Elias Seminary. Vas has been studying theology, ecology, wilderness skills, botany, holistic herbalism, and art in an effort to rediscover the ancient christian traditions, re-imagining them for our contemporary setting. He is dedicated to bringing about sustainable solutions to our current problems that are rooted in the love of God, and the communion of all things. Only when seen through the lens of a holistic theology can we hope to find lasting solutions that unify people rather than divide.
Vas is a writer, teacher, artist, herbalist, and wannabe homesteader. He has been teaching for over a decade and has been a guest speaker throughout New Jersey at various events. His art was recently on exhibit at the State Museum of New Jersey in Trenton, and he has been awarded several grants from the NJ Council on the Arts.
Vas is married and raises two potbelly pigs. Both Vas and his wife are committed vegans, having made the conscious decision to inflict a little less suffering on the creation. Vas credits the his two pigs as his first non-human teachers, opening his eyes to the depth of creation, and what it means to love and to strive for communion with all living things.
---
Join us as we strive to create a more peaceful world as we seek to meet the Creator, through the creation. Strive with us to develop an authentic Trinitarian communion, as we honor our God, demonstrate love to one another, and show compassion upon all of nature.
Rewild Church meets in Pittstown, NJ and in various other locations throughout Hunterdon County New Jersey.
Contact Us
Christian Ecology, Theology, and Holistic Herbalism
[contact-form-7 id="330″ title="Contact form 1″]
Pittstown, NJ (Hunterdon County New Jersey)